11.03.2021
New Year… next Concert …
My band and I will play again live for you online from Berlin's Greve-Studio. Join us live on YouTube at 8pm CET (German time) on Friday, March 19th.
The last few months since December have seen me in hibernation, withdrawn under the Corona-Cover, sitting out the dark days. Now comes spring and with it vaccinations, Easter, resurrection and new beginnings. Let's not fool ourselves – none of us know what this stupid virus will bring, but at the moment I have a few concert dates in my calendar and am really curious to see if everything works out as planned. I can hardly wait to sing in front of an audience, again – live!!!
And it's happening! Next week Friday, March 19th. With my band and songs from my albums GAST AUF ERDEN and GEISTESGEGENWART. Beautiful Century-old Hymns full of poetry and faith will be brought to new life by me and my band. Join us and tune in live Friday evening, 8pm central European time. The video will remain online after so can be seen afterwards if you can't make it Friday evening. Tickets come in the form of an amount at your discretion at: PayPal.me
or a bank transfer directly to our account. Just mail us at booking@sarahkaiser.de and we'll send you the details you need.
Have a good month of March and stay positive!
---
5.12.2020
…Livestream-Release-Konzert on YouTube tonight! 
In a few hours, at  7pm German time tonight, my CD-Release Concert will start. I am excited!!!!! The band, the strings… everyone is ready. 🙂 Here's the Link to the stream. And don't Forget: if you like it, give us a like on YouTube and feel free to support us financially at PayPal.me. See you tonight!!!
---
11-29-2020
Concert in Rodenberg on December 6th cancelled.  
Unfortunately, the Kulturkirche Rodenberg had to cancel our planned Christmas concert on December 6th due to the prolonged Corona lockdown. We hope we can do this concert in 2021 and invite everyone that was intending to attend the concert to join our YouTube-Livestream-concert on my YouTube channel "Sarah Kaiser Live" on Saturday, December 5th.
---
11-25-2020
"Vom Himmel Hoch" – Release-Concert on my YouTube channel December 5th
Since live is not possible right now, we will give my release concert for my new Christmas album "Vom Himmel hoch" live online on my YouTube Channel "Sarah Kaiser live". I will upload the livestream-link in the next few days here. There's definitely one advantage to this whole Corona-business: online-concerts make it possible for the entire world to be a part of this concert.  Admission? You decide how much: PayPal.me. I so look forward to singing these beautiful songs for you on December 5th.
---
11-01-2020
Concert Erfurt December 5th cancelled! 
Unfortunately, the concert organisers decided to move my Christmas concert planned for December 5th this year in Erfurt to – hopefully! – next year. Due to uncertainties connected with Corona… bummer. I am sad we won't be able to play our music this year in Erfurt, but Erfurt, we will come next year… Stay safe and healthy, everybody…
---
09-28-2020
MUT2020 and October 3rd: (Sarah and) Germany sings!
I'm so excited! This Friday I will get on the road to sing and perform in front of a live audience for the first time in many months, alas, this entire year almost, thanks to Corona. I will do the worship and music at the MUT 2020 Conference this Friday and Saturday, with Samuel Jersak on the keys. At the same time, many many people all over Germany will get on the streets to sing, celebrating 30 years of German reunification.  A "germanwide thank you – demonstration", that's what "Deutschland singt" (=Germany sings) is called in this video, and I like that image. You can also see me in this video. Even if you are not fluent in German – if you live in Germany, you can join "Deutschland singt" live on the streets or online this Saturday, on October 3rd: https://3oktober.org
---
09-12-2020
Gelobet seist Du Jesu Christ – YouTube Video now online!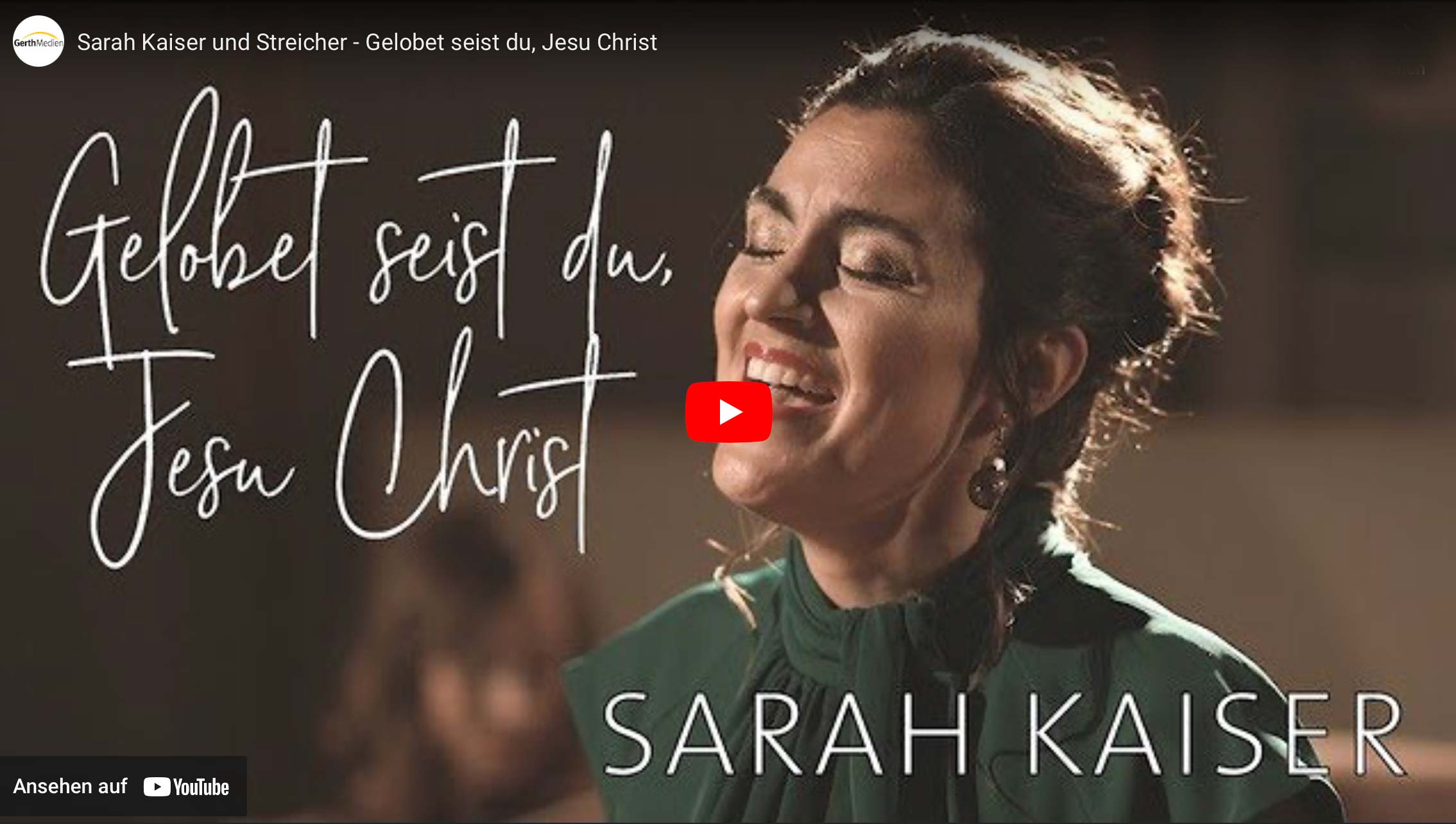 ---
09-11-2020
New Album VOM HIMMEL HOCH – Christmas is around the corner!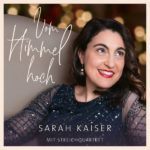 The last days of summer – here in Germany it feels like a last heatwave – with sunshine and 26 degrees Celsius, but alas: my 6th and newest album "Vom Himmel hoch" is released today! Hard to believe. And all that while I myself usually do a face palm when I see the first chocolate Santas and ginger cookies at the supermarket at the end of August… 😉  But quite contrary to that commercial development, "Vom Himmel hoch" contains 12 beautiful and timeless songs, has longterm nutritional value and accompanied me throughout the entire last year, was written in the fall, developed and recorded in winter, matured over Corona-spring and was finalised in the summer. Just in time for you all to get it and start the shorter and cooler days and longer nights with peace and wonder-full sounds. Listen for yourself – on my landing page. You can buy the album here in my shop,  at my live-concerts and in all the usual places.
---
02-02-2020
In the studio… 
At the moment we are recording my newest album. It is a Christmas album and it sounds just lovely.  More to come soon! 🙂
---
10-12-2017
Hiskia 
Loads is happening in the coming weeks! In 10 days we will go on our Reformation tour and in 2 weeks we  will be in Africa, but this Sunday I will sing in Dortmund, Germany first: as a Mezzosoprano in Christoph Schönherr's Jazz Oratorio "Hiskia" (=Hezekiah). Conducted by Ingomar Kury in the Lutherkirche Dortmund-Hörde. More Info here
---
3-16-2017
"Wenn wir wollten was wir sollten" on SWR2 
…SWR2 just played my song "Wenn wir wollten was wir sollten" on the Radio.  In the feature "Luther-Wegbereiter der Gewissensfreiheit" by Andreas Malessa.  All in German. Good feature about the freedom of conscience and what Luther had to do with that. 🙂
---
3-9-2017
Update
Hello lovely people, please forgive me for neglecting this news page for months! Not like nothing happened, but with so much happening and this multimedial world of facebook, instagram, twitter, newsletters etc. etc. I am just not catching up. Anyway, I'll try to do better from now on. 🙂
So since January, I've been on the road in Germany again and this weekend there are 3 events waiting for you:  a choir workshop for pupils and young folks at Ludwigsgymnasium in Köthen, open to all and free of charge. 3-6pm. It's a prep workshop for my concert in Köthen on April 28. And then concerts on Saturday and Sunday in Gräfenhainichen and Stein (near Nürnberg). Just check my "live" page for details and come by if you're around!
---
10-10-16
FREIHEIT Berlin Record Release Concert on Monday, October 31
We are happy to announce that there IS going to be a release concert for my new album "FREIHEIT": Monday, October 31, 2016. Germany's very own reformation day! In Berlin, Kreuzberg at Emmaus-Kirche (see further details at "live").
500 years ago, in 1517, 95 theses published by Martin Luther set the reformation in motion. But what does that have to do with today? Especially with those of us who don't go to church? Well, Luther's bible translation from the early 1600s was the foundation for the High or standard German we speak in Germany today. It was all about communication and cross regional understanding.
The hearty, direct and sometimes quite radical Martin Luther and his contemporaries such as Melanchthon and many others were the radical trendsetters of their time. They set something in motion that had considerable ripple effect.
Otherwise, we wouldn't be singing together in church today. In our mothertongue (not latin). And there are other topics, such as daring to take a stance, following your conscience rather than human authorities, freedom from false bondages such as indulgences, and questioning tradition.
What all of that has to do with Jazz and Soul? Well, just come and hear for yourself this October 31. We will play all songs from the album with full band, and I will reveal some secrets about the songs.
We look forward to having many of you come and celebrate the Record Release with us! 🙂
---
10-02-2016
TV featurette on Swiss – Italian TV about my new album about the Reformation:
http://www.rsi.ch/la1/programmi/cultura/segni-dei-tempi/Dalla-palestra-al-microfono-8028620.html
---
08-31-2016
NEW CD out!
Hello dear English-speaking, or should I say non-German-speaking fans. Let me update you on what has been happening since December, when this new homepage came online. Lots! Next to some band concerts all over Germany, in March I went to SPRING, a German family faith festival (much like Spring Harvest in Britain) to sing there and give a choir workshop. In June, I released the improvised worship CD "Love Song for the Nation" with my dear friend and colleague Sebastian Bailey. All summer I haven been learning new songs in over 10 languages for the women's acapella quartet Aquabella, of which I am a part since this August. But most importantly, I have been working on my newest album "FREIHEIT- Auf den Spuren Martin Luthers" which could be roughly translated as "Freedom – following the tracks/steps of Martin Luther". The CD was officially released this past Friday, August 26th. Now you can get it here in my Shop or at my live concerts, at itunes etc.
I am afraid you will have to polish your German skills or ask some German speakers for the meaning of the songs. It's all about reformation. We celebrate 500 years of reformation in Germany next year, in 2017. I was intrigued by this event, topic and concept and decided to both rearrange old songs by Luther and write new songs on the theme of reformation.
Go ahead and order your copy of one of my 2 newest CDs and have fun discovering! And see you at one of my next concerts with Aquabella or my band.
PS: The titletrack "Freiheit" was made into a songvideo, shot in July in Berlin. You can see it here:

---
12-10-2015
FINALLY!!! New Website online 
Hello everybody, as you can see, my new website is finally online. After many weeks of choosing designs and photos with the wonderful graphic designer Florian Walz, making small and bigger decisions, editing and writing texts and all the lovely things that are part of redesigning a website, we are finally live in a beautiful new look. We hope you like it. Amongst other things, I have added a whole section on seminars, workshop and vocal coaching. Enjoy browsing. We hope you find everything you need and want to know. Do visit the guestbook and leave an entry. 🙂
PS: The water pictures, by the way, were taken by the awesome photographer Sam Kim at Whiskeytown Lake in northern California.
---
09-08-2015 
SPIN – lyrics
Today I got a request for the lyrics of my song "SPIN" from the album Green Land (JazznArts 2009) of my valued musical collaborator Samuel Jersak. Here are the lyrics:
SPIN (Lyrics: Sarah Kaiser; Music: Samuel Jersak+Sarah Kaiser (Melody)
Do you know what time it is
Can you hear the sound?
Do you see the shadows dance?
Moving all around?
Do you feel the sun is here?
Will you come join in?
Twirl and stumble all around
Will you come and spin?
This is a new day
Everything is green
Winter's cold has gone
And where have you been?
To greet this new day
Things unseen
Spring has finally come
And where, where have you been?
Do you know what time it is
It's the year of jubilee
Everybody's running wild
Singing, dancing, free
Do you feel the sun is here
Will you come join in?
Twirl and stumble all around
Will you come and spin?
Come, come, come and spin
This is a new day
Everything is green
Winter's cold has gone
And where have you been? (Tell me, oh)
To greet this new day
Things unseen
Spring is finally here, so
Will you, will you come and spin?
Where have you been?
Where have you been?
Will you come, will you come
Join in, join in, join in and spin, spin spin…
To greet this new day
Everything is green
spring has finally come
And where have you been,
To greet this new day
Things unseen
Spring is finally here, and
Will you join in
To greet this new day
Things unseen
Spring has finally come….
Will you, will you join in? …
---
09-08-2015
This weekend: Bad Doberan ++ soon: new website
Dear folks, after a longer summer break this weekend starts fresh with some concerts: In Bad Doberan at the Baltic Sea you can hear me w my trio and participate in a Gospelworkshop I am giving there – should you be near there. And soon to come is a fresh paint on my website – new design coming up.
---
06-06-2015
Spring Update – Berlin concerts coming up
Dear folks, long time no hear. But the Sarah Kaiser Band has been busy giving concert all throughout Germany. In March we had the rare opportunity to play in the Berlin Velodrom in front of about 10.000 people at the Iranian Womens Conference for freedom and democracy. An important and moving day. In the beautiful month of May, we have a few Berlin concerts coming up. The only public one is on Thursday, May 21. Spaces are limited so be sure to reserve your seat via fon beforehand! See ya there or soon… 🙂
---
01-12-2015
Happy New Year! And problems with the contact page
Dear Sarah Kaiser Fans and website visitors, we wish you a happy, healthy and light 2015! Unfortunately, we have just found out that there is a mistake in the contact page on this site; we are working on getting it fixed right away. In the meantime the contact info of my booker Peggy Anders is on the same page, so you can always connect with her. Speak, hear and see you soon! Sarah
---
12-10-2014
Flashmob video – online!
here is the youtube video concerning the flashmob I talked about earlier. To date it has gotten more than 26.000 views on youtube – only a week online so far. So cool!