Sarah Kaiser is a passionate singer. She has been active as a singer, choir director and vocal coach since the late 1990s. She has published 6 solo albums and 3 albums with the renowned German vocal jazz quartett Berlin Voices to date. Over 50.000 albums sold so far with her very own, unique musical blend of Jazz, Soul, Gospel and Pop.
Everything started in Berlin, Germany – Sarah was born into a musical family: Her mother was an Alto in the renowned chamber choir RIAS Kammerchor, her grandfather a composer, choir director and organist and her mum's uncle the famous opera and Lied-singer Dietrich Fischer-Dieskau. So she grew up with and around music from her first breath. Soon after finishing her degree in Jazz Singing (Royal Academy of Music, London and Musikhochschule Hanns Eisler, Berlin) and with a BA in English Writing (Taylor University, USA), she published her debut CD in 2003: "Gast auf Erden– Paul Gerhardt neu entdeckt" (Guest on Earth – Paul Gerhardt newly discovered), an album containing 12 songs  with lyrics of Germany's best known church song lyricist Paul Gerhardt (1607-1676), newly arranged in an acoustic Soul-Jazz style. Gast auf Erden has been her most successful so far with nearly 30.000 copies sold. 2005 her second album Miracles was released. A jazz album, containing standards and covers as well as originals, all in English. Less than two years later, in January 2007, her third album Geistesgegenwart came out; a logical continuation of Gast auf Erden, this time not only with texts by Paul Gerhardt but with a wider variety of old hymns, with a couple of English hymns such as "Be thou my vision" or "O come o come, Emmanuel".
At this point, Sarah wanted to delve further into her own song writing, a natural continuation of the process that started with Miracles. Her fourth album Grüner, released in October 2010, contains fresh, groovy original jazz songs. An albums of "firsts": in the German jazz scene one of the first albums to contain all German lyrics, and Sarah's first album to contain solely her own songs.
The years after, Sarah took a creative break and time out from performing for a while. In the fall of 2016, she released her sixth album Freiheit – auf den Spuren Martin Luthers. An album in her native tongue German, about the theme of Reformation, as Germany and the whole protestant world celebrated 500 years Reformation in 2017. This time she chose to bring together her own song writing and modern lyrics of other writers with rearrangements of 500-year-old church hymns, all grouped around the themes of the Reformation such as, f.i., freedom and grace.
In the fall of 2020, she released her latest album, a Christmas album: Vom Himmel Hoch. This time not only accompanied by her band but by a string quartet, letting each of the 12 tracks, often centuries-old and well known, shine in a new, bright light, intimate and energetic at the same time.
Sarah regularly performs with her band. She has received concert invitations from the German government (Bundestag), to diverse jazz festival such as the Jazztage Dresden, ENJOY Jazzfestival and jazzopen Stuttgart, has shared the stage with German artists such als Heinz-Rudolf Kunze or die Prinzen, and has played a variety of festivals and events. The most exotic tour destination of the Sarah Kaiser Band so far has been Saudi Arabia. 2004 Sarah was awarded "Best Artist 2003" at the Promikon Artist Fair in Gießen. In 2011, she received the IMPALA Award.
Choir directing is one of Sarah's passions: for six years, she led the young gospel choir Soul 2 Soul, started in Berlin Marzahn as part of a social and cultural youth work there. The Berlin-based Gospelchoir inspired! was also founded and led by her until 2012.  In 2014 she directed a Flashmob choir for a special pre-christmas performance orchestrated by Berliner Stadtmission in one of Berlin's biggest department store. In 2019, she founded her latest gospelchoir Praise Connection. 
Sarah Kaiser works as a vocal coach both in her private studio and at the Berlin School of Popular Arts as well as at Berlin's UdK (University of the Arts) C-Seminar. She leads seminars and workshops for singers and choirs, especially on the topics of solo vocal performance, improvisation and (gospel) choir. She also works as a studio session singer.
From 2000 until 2011, Sarah was part of the Berlin Voices, one of Germany's most exquisite vocal jazz groups. Esther Kaiser, Sarah Kaiser, Marc Secara and Kristofer Benn met as students in Germany's BuJAZZo, Germany's national youth jazz orchestra and at the Hanns Eisler Music Conservatory in Berlin. Their concerts brought them to countries such as Estonia and Azerbaijan, and to collaborations with musicians such as Jiggs Wigham, Joja Wendt and the hr Bigband. They stand in the tradition of vocal groups such as Manhattan Transfer, the New York Voices or Take Six. The Berlin Voices have stopped performing together in 2011. Their last album, the wonderful christmas CD About Christmas (SCM/hänssler music) is still available in Sarah's shop. (www.berlinvoices.de)
---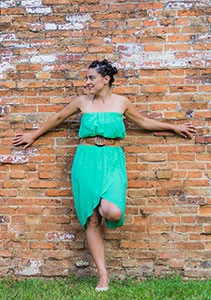 CD – Releases:
"Gast auf Erden – Paul Gerhardt neu entdeckt" (Gerth Medien, 2003)
"Miracles", (Gerth Medien, 2005)
"Geistesgegenwart", (Gerth Medien, 2007)
"Grüner" (Jazz'n'Arts, 2010)
"Freiheit" (Gerth Medien, 2016)
"Vom Himmel hoch" (Gerth Medien, 2020)
With the Berlin Voices:
"States of Mind – the Music of Billy Joel" (Double Moon/Van Dyck Records, 2007)
"About Christmas" (Hänssler Music, 2010)
Degrees & Awards:
Diploma Jazz Sining and Vocal Pedagogy, Hochschule f. Musik "Hanns Eisler", Berlin,
"Best artist 2003" Promikon-Award, Promikon artist fair Giessen
Impala Award 2011
Teaching:
Pop voice and choir at the Berlin School of Popular Arts.
Pop Vocals and Choir directing at the church music C-Seminar (University of the Arts, Berlin)
Seminars and workshops for pop, gospel and jazz choirs and for solo singing, vocal technique, and improvisation. Coaching for choirs.
Private Vocal lessons
---